Debbi McArthur IACP-CDT
CEO & Founder of Prairieburn K9 Academy
Located on 8 acres in Macdonald just outside of Portage la Prairie, Manitoba.
I have been involved in dogs all my life and felt I always had a special connection with them.  Before becoming a full time dog trainer, I trained and competed in obedience as well as conformation with many dogs receiving championships.  It was exciting but I felt like there was something missing.  I was seeing a disconnect in the foundation of the relationship as a whole between the human and K9 from the dog's perspective in day to day life outside of the show ring.
I saw so many families having struggles living with their dog "I can't walk my dog – he pulls me on leash – I walk my dog at 4am when no one is around – he reacts to everything", "he jumps up all the time – I can't have people over – I'm feeling like a prisoner in my own home", and I wanted to help.  I knew if these owners didn't get help their dog was going to end up being given away, dropped off at a shelter, or worse.  The families loved their dog but just didn't know what to do.
That is when I realized my purpose.  Help families live in harmony with their dog through education to keep dogs in the home.  Shelters are overflowing and rescues are being buried alive in an avalanche of dogs being dropped off or returned.  I knew stopping the avalanche was impossible but if I could make an impact I would be helping.  That's when I decided I would dedicate my career to helping families.
When I decided to become a dog trainer full time, I wanted to become certified and researched schools all over Canada and the United States that I could possibly attend.  I quickly learned that the Government does not recognize dog training as a certified profession (like a doctor, dentist…) which meant anyone could become a "Certified" dog trainer by just paying money and taking an online course without ever having worked with a dog.  How was I going to help families without training with someone 1 on 1 or handling dogs to gain experience?
I felt defeated and had to decide that if I was going to make a real impact with my purpose of helping families I was going to have to go down a different path of learning than other trainers but had no idea where to start.
That's when I stumbled upon Training Cesar's Way at the Dog Psychology Centre in Santa Clarita, California where you could attend a 5 day course working 1 on 1 training with Cesar Millan who's philosophies made sense to me and worked well with my own personal dogs.  I decided that I would invest my business start up on knowledge and experience over certification.  It was in May of 2013 on my 40th birthday when I first met Cesar.  What a great way to spend my birthday!
Training at the DPC with Cesar opened up many doors for me to meet and work with dog trainers from all over the world.  It was through Cesar that I met my friend, mentor and world renowned trainer, Heather Beck of K9 Lifeline.  I trained with Heather 1 on 1 at her facility in Draper, Utah in 2014 learning how to work with difficult dogs, how to properly socialize and rehabilitate dogs as well as how to use e-touch (ecollars) to create a positive, fun experience for owners and give freedom to their dogs.
Since 2013 I have worked with over 2500 dogs from happy go luckies to reactive cases.  By working with so many dogs I am seeing patterns of behaviour, why dogs do what they do, what is lacking in the relationship between owner and dog that is preventing success, and how to bridge the gap between the two species – Dog and human.
Every dog teaches us something new and education never ends.  I believe in bettering ourselves through learning and experience not only in dogs but with other species as well.  Training with Rick Quinn in a Horsemanship Clinic who trained with Buck Brannaman was a great experience for me to see how our philosophies and training approach with dogs crosses over to other species.
I am a professional member of the International Association of Canine Professionals (IACP) and have earned my CDT title.  I am also a member of The Canadian Association of Pet Dog Trainers, Canadian Kennel Club, Portage Kennel Club, German Shepherd Club of Manitoba, and German Shepherd Club of Canada.
I still breed and show my top quality German Shepherds through Longburn German Shepherds for conformation and family companions.
I will forever be grateful for the support and knowledge that I have learned in the psychology of dogs and how to create harmony between human and K9 through Heather and Cesar.
Jessie Lavallee – Owner, Pembina Valley Division
Located in the Lettellier/Altona area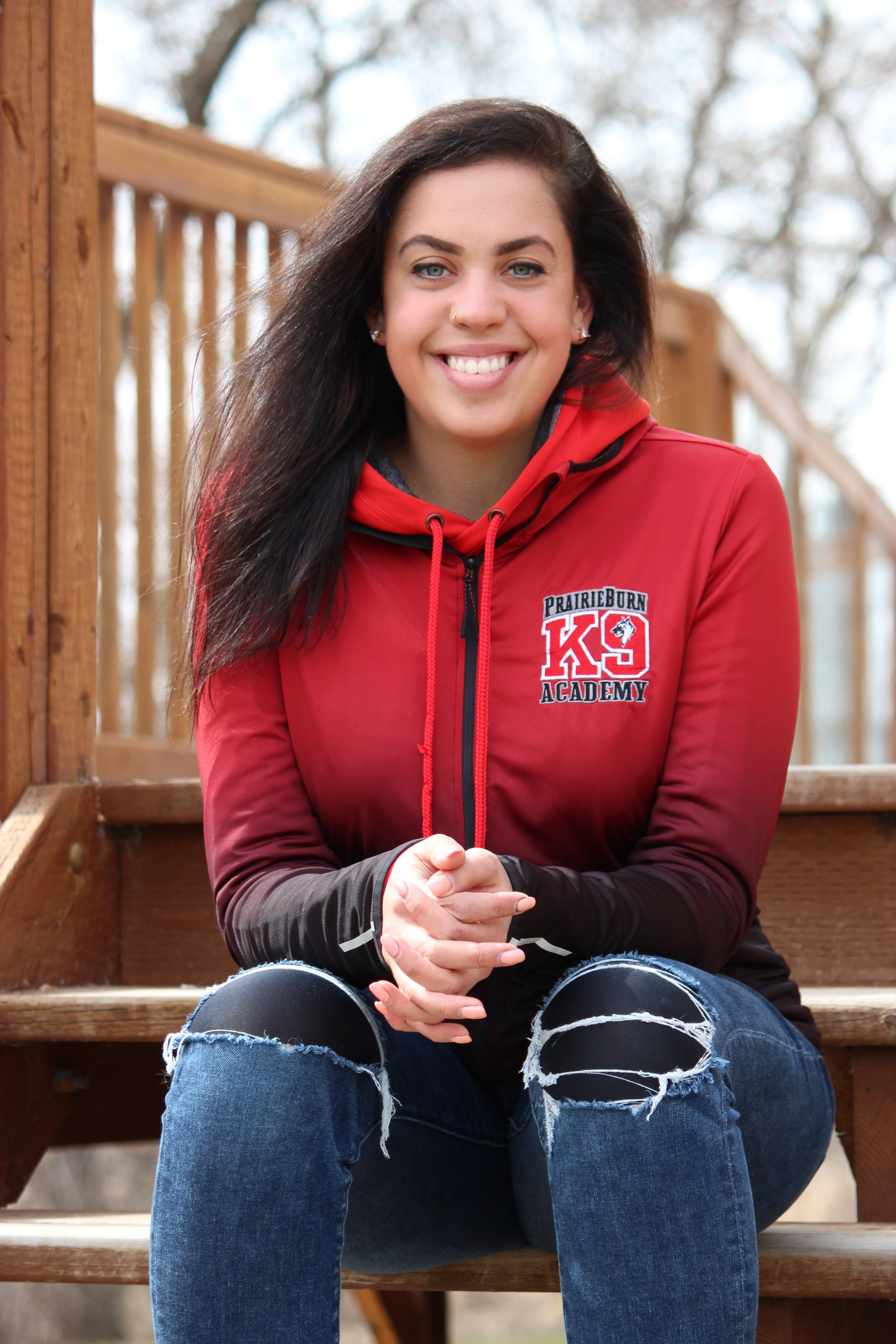 I grew up dreaming of a life that involved being surrounded by animals. If you asked me in elementary school or junior high who I wanted to be when I grew up, I would have told you that I wanted to be someone who worked with animals. I took every opportunity and made every opportunity I could to be close to any animal. Once I got to high school my career vision changed a bit, but it didn't take long for me to find my way back to where it all started… animals.
Throughout high school and after graduation I worked as a Direct Service Provider for Adults with physical and mental disabilities. I got my very first, very own dog the summer that I graduated from high school, a little 8-week-old black and white Pug mix named Kylie. After having worked as a DSP for numerous years I thought my calling in life was to help humans, so I attended the University of Manitoba to get my Nursing degree. Nursing wasn't for me, but little did I know at the time that years down the road I would still be "helping humans."
The next path I took in life was one that changed my life forever. I got a job as a doggie daycare attendant at one of Winnipeg's most prestigious dog care facilities. I worked in the daycare for 3 months until I decided to try my hand at dog grooming. I started as a bather/prepper and quickly worked my way up to become a finishing groomer. I was lucky to have been mentored by some of Manitoba's top Master Groomers. During my time working in Winnipeg I welcomed a German Shepherd puppy named Oakley into my life. We trained/competed in obedience, rally obedience, agility, herding, conformation, therapy dog work and more. I've done a lot with dogs, seen a lot of places and met a lot people but I never knew what I was in for when I met a lady named Debbi McArthur at local conformation shows.
I remember the very weekend at a dog show in Kenora when we all sat around in a circle listening to Debbi talk about her experience at Cesar Millans "Training Cesars Way" at his Dog Phycology Centre in California. I sat in awe listening to her talk so fondly of someone that I grew up watching on tv and admiring. Shortly after I asked Debbi over to my home to help me with a few struggles I was having with my dogs. I was so intrigued by what she had taught me in such a short period of time that I made the drive out to her facility in Portage La Prairie for Oakley to spend the day with her and her daycare crew and to see what it was all about. And the rest is history! I started attending all her events/workshops travelling hours just for the opportunity to learn from her, and eventually our relationship turned into a partnership where I would be her helping hand during events which developed in a 6-year long mentorship.
In September 2014 I moved back home and opened my very own grooming shop in Altona MB called A Furry Tail Ending.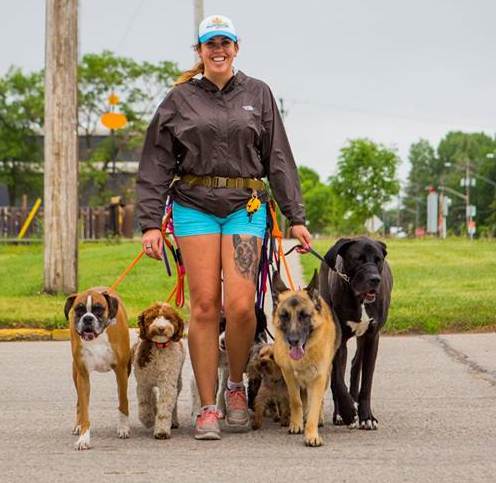 Winter 2017 Oakley and I hopped onto a plane to Kelowna BC (where Debbi was living/working at the time) to live/mentor under Debbi for two weeks. We hiked with her Daycare crew in the mountains 3 days a week, joined her workshops and all of her in home private training sessions. When we returned home I added daycare pack walks to A Furry Tail Endings services which was a huge hit and I've had so much fun walking my pack of dogs through town seeing so many people smile and stop and ask "how do you do it?".  Summer 2017 I joined the Prairieburn K9 Academy team as a Contracted Trainer, and Winter 2018 I became the Owner of Praireburn K9 Academy Pembina Valley Division!
My journey that led me to where I am today has been one heck of an amazing ride. I have learnt something from every experience I've been through. I am thankful to many people who have influenced my passion and my career but my Prairieburn family is like no other. Debbi and Anthony are the people who "fan my flame", we keep each other's passion for helping dogs burning. I am thankful for past, eager about the present and excited  for the future of Prairieburn K9 Academy.
Jessie is also the owner of A Furry Tail Ending grooming salon and a Big Country Raw distributor.  She can be reached at 204-304-9229 and [email protected]